Right so some of you have gone to sleep already but we will move past the fact that some people don't like golf because I rather like the idea of being outside in the sunshine instead of in front of my keyboard. Notice that I said "the idea" because my golf game is not exactly good, I refer to it more as Army Golf because we do a lot of left, right, left.

Anyway last Tuesday I had the pleasure of playing a spot of golf with 3 clients joinining me in what I hope will be an annual event for us at the Joondalup Business Association golf day held at the stunning Joondalup Country Club. If you are still reading then you are likely into a bit of golf and let me tell you if you have never played at Joondalup then you are missing out on a beautiful course, there are 27 holes and all of them are in top notch condition.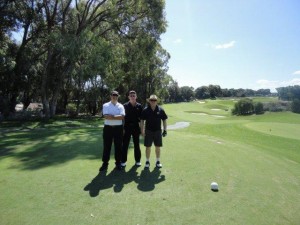 Here is a few shots of us at the course and we all enjoyed the relaxing day in the sun. We are aiming for two teams in next years event so if you couldn't make it this year we want to see you out there next year!

Thanks to Brendon, Howard and Jega for making it such a great day and we came 14th in our first event so that was a pretty decent effort!
Better services More cost effective
Let's chat how are will be able to help you improve your IT reliability, we are confident that our solution is cost effective.